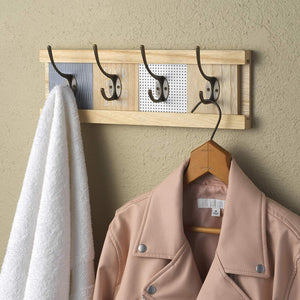 10 Street Home Wall Mount Coat Rack with 4 Adjustable Coat Hooks, for Entryway, Bedroom and Bathroom; Hat Rack, Towel Rack, Natural Wood, Easy to Install
10 Street Home Wall Mount Coat Rack with 4 Adjustable Coat Hooks, for Entryway, Bedroom and Bathroom; Hat Rack, Towel Rack, Natural Wood, Easy to Install
10 Street Home's customizable wall mounted coat rack is a piece of art that not only adds personality and color to any room but holds your belongings and keeps you organized. Its unique multi-colored panel design allows you to use 3 or 4 hooks anytime you want, as well as change the design of the coat rack to fit your liking. This heavy duty coat rack is light weight, very easy to install. It can hold your coats, jackets, shirts, hats, bags, jewelry, and many more!.

Package Includes:

- Coat Rack Base
- 4 Hook Panels
- 2 Screws and 2 Wall Anchors
- Instruction Manual


ABOUT 10 STREET HOME:

10 Street Home, founded in the Rosena Ranch Community in Fontana, California, is a manufacturer of modern, contemporary home furnishings. Our quality products become art pieces that provide utility and add personality to your home. Whether you live in a room, an apartment, a condominium, or a single-family house, we help turn any place into your home.

www.10streethome.com
Product Features
LOOKS GREAT IN YOUR HOME - A high quality wall mount coat rack that adds utility and personality to any room. It works great as entryway hooks, hook rack for bathrooms, bedrooms, and offices.
ORGANIZE - Helps organize and functions as a coat rack, hat rack, towel rack, key holder, and jewelry organizer. The 10 Street Home multiple coats rack is customizable - use 3 hooks or 4 hooks at any time and create space for larger items.
EASY TO INSTALL - Includes 2 screws and wall anchors and takes just minutes to install.
HEAVY DUTY AND LIGHTWEIGHT - Weighs just 1.4 lbs and holds several coats, jackets, towels, racks, jewelry, keys etc.