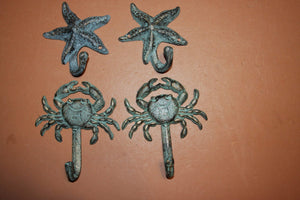 4) Antiqued Look Sea Life Wall Hook Set, Crab Coat Hooks, Starfish Wall Hooks,Antiqued Look Cast Iron Bronzed Look Finish, Set of 4
Bronze Look Nautical Wall Decor Set. Solid Cast Iron. These are great to hang coats, hats, purses, backpacks, towels and more.
Crab wall hooks are 4 1/2" x 6". The bottom swings forward to for the hook.
The starfish wall hooks are 4" x 4 1/4". Bottom part swings forward to form hook.
Holes or Brackets for mounting. No hardware provided.
These are finished in a bronze look finish which inhibits rust. (The lighthouse is a dark green color.) These are ready for you to paint and bling to the color of your choice. Spray paints work great and are easy to use.
Free Priority Mail shipping. Delivery time averages 2-3 business days.
2 each BL-34, N-24