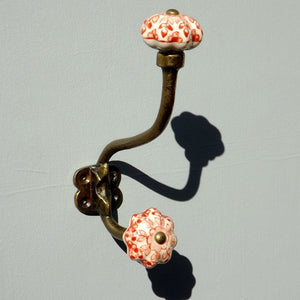 Antique brass effect Double Hook with Red & White shaped ceramic ends
This absolutely stunning antique brass coat rack is the perfect vintage buy for a traditional period property. Its classic and stylish Victorian design means that it will make a wonderful decorative addition to any room of the house – we think it's perfect for bringing an extra bit of elegance and class to communal areas such as the living room. It's a lovely ornamental piece – the ceramic ends of this antique brass coat rack are shaped like flowers and are patterned in a beautiful red and white leaf design.
Dimensions
Width: 3.5cm

Height: 15.5cm

Depth: 11.5cm

Approximate weight: 204g
The coat hook is double ended which means it is great for hanging up all of your coats, hats and scarves. However, it's a very versatile piece – as well as using it as a coat rack, we think it would work really well as a stand-alone decorative wall feature because of its attractive patterned ends and charming vintage design. Alternatively, you can use it to display other items - check out our collection of lovely for some further inspiration for decoration ideas in your living room and other areas of the house.
The coat rack is crafted from fine quality materials, meaning that it is sturdy, durable and long-lasting. Please note that screws are not included with this hook so you will need four screws in order to fix it into place. Fixing your hook will be a straightforward process, and it can easily be attached to walls, doors and other surfaces.
If you think this antique brass coat rack will look lovely in your house, why not start a collection of beautifully crafted Victorian hooks? This particular style is also available in a. And, if you're not a fan of the patterned style, we have a sophisticated with black graphite ceramic ends, too.