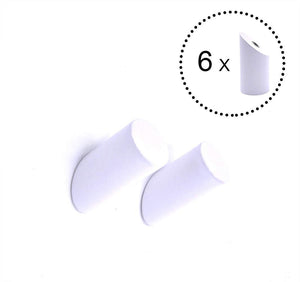 ANZOME Wooden Coat Hook, 6 Pieces Wood Wall Short, White
ANZOME Wooden Coat Hook, 6 Pieces Wood Wall Short, White
---
Product Details
Brand: ANZOME
Model Number: Surethingz
Colour: White
Item Weight: 181 g
Package Dimensions: 10.7 x 10.6 x 4 cm
Shipping Weight: 181 g
NATURAL AND HAND MADE- This wooden coat hook is made of beech and walnut. Hand-made. Painted with natural and environmental wax oil, which is to protect the wood and make it more resistant .
SIMPLE AND STYLISH- 100% solid wood, with unique texture. Simple but look great.
EASY TO INSTALL- What you need to do is drill a hole, knock in the plastic anchor and screw the screw in the wall hook and plastic anchor. Sturdy enough. It only takes you about two minutes.
GOOD FOR HANGING- This coat hat hook is mini but useful. Bearing capacity up to 10 kg.You can use to hang clothes, hats, scarves, bags, headphones, clocks, etc. It helps keep your house organized.
GREAT APPLICABILITY- This wooden wall pegs is east to fit. It is ideal coat hook for bedroom, hallway, living room, bathroom (especially wooden themed room), kitchen, laundry, bar, garden, etc. Lovely and practical.