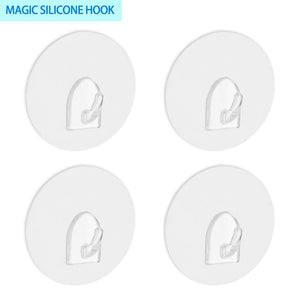 BABALA Heavy Duty Wall Hooks - Eco-Friendly Magic No-Glue Silicone Hooks Transparent Nail Free Wall Hangers Waterproof Reusable Strong Utility Hooks for Kitchen, Bathroom, Coat, Towel, Keys (Hooks)
BABALA Heavy Duty Wall Hooks - Eco-Friendly Magic No-Glue Silicone Hooks Transparent Nail Free Wall Hangers Waterproof Reusable Strong Utility Hooks for Kitchen, Bathroom, Coat, Towel, Keys (Hooks)

Features
Eco-friendly Bathroom Hooks - Made of silicone and no glue adhesive, easy to stick and remove, and also stick very well.
Heavy Duty kitchen hook- max bearing (13.2 lb) weight per no damage wall hangers. Perfect
to hanging most home and kitchen ware.
Waterproof Wall hangers-waterproof, oil proof, moisture proof and heat resistance.
Seamless Bath Hooks -There are no any residue left once you tear it off.
Widely Use Shower Hanger- Best hooks for hanging jackets, coat, robes, towels, hats, scarves, keys, purses, bags,umbrellas,dog leash, etc. Also serve as kitchen hooks for kitchenware, pans, pots, lids, utensils, spoons
Applicable materials- glass, marble, stainless steel, plastic and more smooth surface.

How to use
1. Clean the place surface where you want to paste the hook away from oil/ dust/ water, keep the surfaces dry before sticking on.
2. Peel off the protective backer.
3. Stick it to the surface and press out air bubbles.
4. To ensure that is sticks better, we recommend rest it for 1 hour before hanging things on it.

Warm Tips
Remember to clean up the surface when installed
Don't use it on painted wall, wallpaper, and matte surfaces.
It is recommends not hanging overweight, valuable and fragile items on the hook.

Specification
Material: Silicone+Plastic
Dimensions:diameter 3.15inches
Quantity:1 set 4 hooks
Product Features
MAGIC ADHESIVE FREE SILICONE HOOK - Different with those plastics glue hook, this hook is made of eco-friendly silicone, Using new technology, no adhesive needed, can be firmly "sticked" to a smooth surface. Soft and circle design no sharp corners, won't hurt your hand and kids friendly. Transparent makes it "hidden†in your house which is quite suitable for home decoration.
ULTRA STRONG COAT HOOK - This small "sticky hook†can hold weights of up to 13.2lb. Super waterproof and oilproof, Great for hanging coat, bags, kitchen tools, office products, shower or bath accessories. Fit for modern classroom and home.
SEAMLESS & REUSEABLE - The Sticky hanger can stick again and again. And because no glue adhesive, it's very easy to remove, and no mess and no residue, can be reset it after cleaning and dry. It's easy to clean, simply wash it with water and dry it naturally, then you can use this removable hooks again, much better than the suction cup hooks.
MULTI- APPLICATION - Applicable to a variety of smooth surfaces, like Glass, Marble, Metal, Plastic ,Stainless Steel surface(please note that there are limits on painted walls, wallpaper and matte surface)
EASY TO INSTALL - The door hanger hook is easy to adsorb, damage free, no nail and drill need. Just peel off the back protective cover, stick the utility hooks firmly from middle to edge.