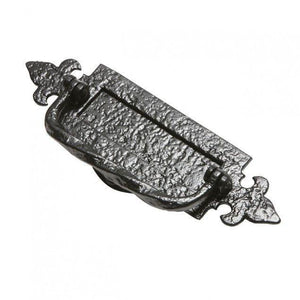 Barley Twist Antique Black Iron Knocker Letter Plate 1085 · Kirkpatrick 1324 ·
This Barley twist design antique black iron postal knocker would look delightful on either a country home, farmhouse or elegant town house.
Dimensions:
304mm x 101mm
Outside measure 304 x 101mm. Outside measure 12" x 4".
Opening 139 x 38mm. Opening 5 1/2" x 1 1/2".
Fixing bolt centres 222mm / Fixing bolt centres 8 3/4")
 362mm x 104mm
Outside measure 362 x 104mm. Outside measure 14 1/4" x 4 1/8"
Opening 203 x 44mm. Opening 8" x 1 3/4".
Fixing bolt centres 279mm / Fixing bolt centres 11")
A collection of antique black ironmongery manufactured by Kirkpatrick Ltd.
A comprehensive range of products is available including lever handles, knockers and letter plates for your front door, matching fasteners and stays for your windows together with cupboard knobs and hat and coat hooks for interior use all at competitive prices.
All products are supplied in polythene bags and outer boxes with fixing screws and spindles included where necessary.
To prolong the life and appearance we recommend lightly lubricating any moving parts and also wiping over the surfaces with a lightly oiled cloth from time to time. 
Kirkpatrick have been producing high quality Ironmongery from their Walsall foundry in the UK since 1855. By using age-old manufacturing techniques with quality finishing methods, they ensure that each product offers true heritage and longevity.