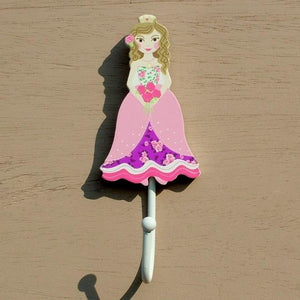 Beautiful Princess Pink Single Coat Hook
Every little girl deserves to feel like a princess and her bedroom, more than anywhere else, should be her castle. This charming girls' coat hook turns a practical bedroom necessity into something fun and colourful for girls of any age.
At Love Hooks, we understand that practicality and precision are key components of finding girls' coat hooks that are right for your little ones, and for this reason this product's exact measurements are listed below, to make your shopping experience just that little bit easier.
Dimensions:
Width: 7.5cm

Height: 15.5cm

Depth: 4cm

Actual weight: 64g
The use of pink and purple on this girls' coat hook will match most typical, girly colour schemes, or else add a splash of colour to some more minimalist rooms. If you've gone all-out for a princess-themed room, this product will also be perfect for you. But why limit it to just the one room? Let all your guests know that your little girl is a princess by placing it in pride of place in the hall for maximum usage!
Now, you might think that the design of this coat hook could reduce its practicality but don't be deceived; the powder coated metal hook has an acute curve for maximising storage space. But if you still find yourself lacking, why not purchase a duo or trio of princesses to spread throughout the room? The hook's mounting is sturdy and cleanly cut into the princess shape, with beautifully painted details showing incredible attention and accuracy. It's such an easy but effective way of adding a bit of character to any room - what's more, it comes at a very affordable price.
Due to popularity, the castle and unicorn hooks are no longer available. However, if you're after something similar, we also stock this beautiful magical white
, which would complement the overall look of the room.