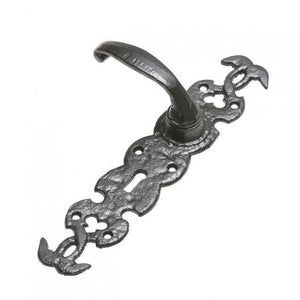 Bent Antique Black Iron Lever Door Handle On Loves Entwined Backplate · Kirkpatrick 1564 ·
The intricate design Lever Handle 1564 will revamp the look of any door, whther the property is of a traditional or modern style. The handle encompasses a scroll like design which adds to the decorative nature of the product.
The Lever Handle 1564 is spring loaded and has a two coat protective finish. This product is available in bathroom, latch and lock options (Lock version pictured).
All Kirkpatrick Products are designed and manufactured in the UK.  Malleable Iron is used due to its strong and durable properties.  A coat of black paint and then a second coat of black powder ensure that this product, like our other door and window furniture, will remain highly decorative and functional for many years to come.
Key Features
A collection of antique black ironmongery manufactured by Kirkpatrick Ltd.
A comprehensive range of products is available including lever handles, knockers and letter plates for your front door, matching fasteners and stays for your windows together with cupboard knobs and hat and coat hooks for interior use all at competitive prices.
All products are supplied in polythene bags and outer boxes with fixing screws and spindles included where necessary.
To prolong the life and appearance we recommend lightly lubricating any moving parts and also wiping over the surfaces with a lightly oiled cloth from time to time.