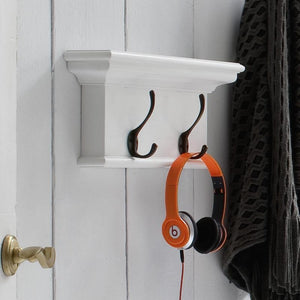 Coat Hanger Unit with 2 Brass Hooks - CLEARANCE
Add some flair with this cleverly designed coat rack. A small shelf has been incorporated into the crown molding, as a spot to display your decorative wares. Large coat hooks, with an antique brass finish, provide a home for coats, keys, or handbags. Select either 2, 4, 6 or 8 hook formation.
HALIFAX COLLECTION
Solid Mahogany, Composite wood, Metal
White semi-gloss paint with a smooth top coat.

Width: 40cm
Depth: 10cm
Height: 20cm

Delivery Included within UK (up to $20)

*PLEASE NOTE* Clearance Terms & Conditions: Some of the products promoted in the Clearance may have been stored for an extended period of time, which might cause some minor defec ts on the appearance of the furniture, without affecting its construction & durability.