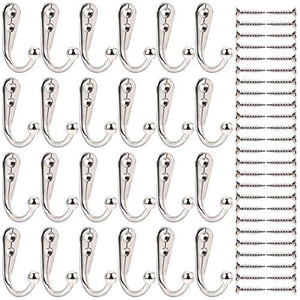 24 Pieces Coat Hooks Wall Mounted Single Coat Hanger and 50 Pieces Screws for Cloakroom, Clothes, Hat, Scarf, Bags, Keys, Shoes, Coffee Cup Holder, Homemade Wardrobe?Silver?
MaterialCoat hooks and Screws all Made by sturdy zinc alloy, different to the older, the Screws longer and sturdier. Stronger and durable, Waterproof, rust, corrosion resistant.
Package&Size24 Pieces Coat Hooks and 50 pieces Screws, the Hooks size of 44*30 mm/1.73*1.18 inch, the Screws size of 5*15 mm/0.2*0.6 inch.
Easy InstallSingle Hook Hangers is super easy to install in your home. It is door hooks,wall hooks. The edge is so smooth that will not damage any item you hang on.
Wide application&DIYDIY Cloakroom, Hanging Light, Clothes, Hat, Scarf, Bags, Keys, Belts, Shoes, Toy,coffee cup holder, Homemade Wardrobe, Hooks, Curtain Tracks.
WarrantyWe provide 30-days money-back and 12-months warranty. Please feel free to contact us if you have any question.
Coat Hooks, Topspeeder 24 Pieces Wall Mounted Silver Coat Hooks Single Coat Hanger and 50 pieces Screws for DIY Cloakroom, Hanging Light, Clothes, Hat, Scarf, Bags, Keys, Belts, Shoes, Toys, coffee cup holder, Homemade wardrobe

MaterialCoat hooks and Screws all Made by sturdy zinc alloy, different to the older, the Screws longer and sturdier. Stronger and durable, Waterproof, rust, corrosion resistant.

Easy InstallSingle Hook Hangers is super easy to install in your home. It is door hooks,wall hooks. The edge is so smooth that will not damage any item you hang on.

Wide application&DIYDIY Cloakroom, Hanging Light, Clothes, Hat, Scarf, Bags, Keys, Belts, Shoes, Toy,coffee cup holder, Homemade Wardrobe, Hooks, Curtain Tracks.

Specifications: 
Color: silver
Hook dimensions: 44 x 30 mm/ 1.73 x 1.18 inch
Screw length: 15 mm
Material: zinc alloy
Quantity: 24 pieces of hooks and 50 pieces of screws

Package includes:
  24 x Coat hooks
  50 x Screws
Topspeeder Amazon ASIN B07KP4946T Home & Kitchen Storage & Organization , Home Storage Hooks , Coat Hooks