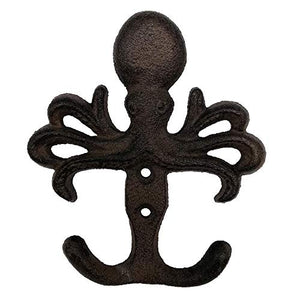 Cast Iron Octopus Double Key Coat Hooks Clothes Rack Wall Hanger, Heavy Duty, Recycled
Heavy duty and quality guarantee-convenient and easy to mount and use-a great condition to make your room attractive and charming.
Product Dimension: 5 inch (L) x 1 inch (W) x 5 inch (H). SCREWS AND DRY WALL ANCHORS ARE INCLUDED.
Material: durable cast iron treated with special coating to protect from rust and wear.
2019 newly released home decorative and functional collection. It is a solid piece, crafted recycled cast iron. It will last for generations.
SHOP WITH CONFIDENCE. FAST SHIPMENT AND QUALITY GUARANTEED- Your satisfaction is our #1 priority.
Cast iron simple decorative bear wall hanger single hook in rusty color
Comfy Hour Amazon ASIN B01GWBC86Y Home & Kitchen Storage & Organization, Home Storage Hooks, Coat Hooks