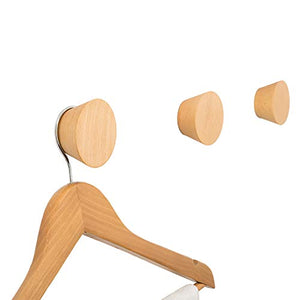 JINMURY 2 Pack Natural Wooden Coat Hooks, Germany Beech Wood Wall Mounted Single Decorative Wall Hooks, Handcrafted Clothes Hooks Hat Rack (AAA Grade)
Natural and Handmade100% real wood materialwhich healthy and eco-friendly. Manufactured from precious Black Walnut/Beech with unique and beautiful natural wood texture.Woodhook Size: around 5x6.cm
Strong and Sturdy: Solid and sturdy wood construction - holds 15kg/33lbs - with hand polished surface and eco friendly wood wax oil paint prolongs life span moreover.
Multipurpose: Hang your headphones on the wall,, Hats , display Baseball Caps, winter Coats, Jackets, Scarves, Purses, Belts, Backpacks, Robe, for a cup rack, coffee mugs. Helps your home get organized.
DIY Wall Decor and Great Organizer: DIY creative style. Use these indivisual hooks create a clean hanging area for coats, hats, towels, coffe cup etc. in foyers, entryway, bathroom, kitchen or coffee bar in a particular way you prefer.
Easy to Install: just drill a hole and insert a wall anchor and screw it. (accessories with Mounting Hardware).
JINMURY Wooden Coat Hook, it is 100% genuine wood. materialManufactured from precious Black Walnut/Beech.
Hand-Paint by Natural Wax Oil, wood wax oil, .
permeated into the peg to protect fiber and creates a protective layer surround the knob, .
making it glossy and durable..
.
Feature .
Superior Material - FSC Certified.
Material Option: Black Walnut / Beech wood .
Source: North America/Germany.
Finish: Wax oil / Paint .
Size: Diameter 60mm .
Net Weight: around 0.06-0.07kg/pc .
Hold Up to: 15kg .
Accessories: Rivets, Screws Selling unit: 2pcs/lot How to Use: .
1.Select the location and mark if necessory. Choose a .
diameter of 8mm. Drill hole depth of about 30mm .
2.Knock the plastic Rivets into the holes, make sure that .
no loose. .
3.Install screws, tighen to the desired angle .
About JINMURY.
as for the natural material items, each wood with its own nature texture. .
Our team should select one by one to ensure each JINMURY wood hook with good looking, no flaws. .

JINMURY Amazon ASIN B07FXTS76M Home & Kitchen Storage & Organization , Home Storage Hooks , Coat Hooks