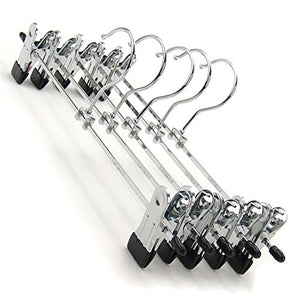 Kanggest Stainless Steel Clothes Hangers with Adjustable Clips Non-Slip Hanger for Skirts, Jeans, Slacks, Pants, 11.2" Wide(10-Pack)
Material:Stainless Steel;Color:Silver;Size:28.5*7cm;Pack of 10(Including Trouser/Skirt Hangers)
Chromium plated and 360 degree swivel metal hook makes hanging and accessing clothes easy!
These clips not only heavy duty and durable to use, also can maximize to save the closet space.
Convenient slim design with adjustable clips on the bottom can hold your clothes tightly without damaging and marks and slipping.
Ultra thin hanger saves closet space., these coat hooks are simple and compact, making full use of space.
Specificaton
Material:Stainless Steel.
Color:Silver.
Size:28.5*7cm/11.2*2.7inches

Feature
Chromium plated and 360 swivel hook,these clips not only have high loading capacity and durable to use, also can maximize to save the closet space.
Convenient and flexible slim design have high loading capacity and are durable to use, and adjustble clips on the bottom can hold your clothes tightly without damaging and marks and slipping.
With the delicate design of clip, these coat hooks are simple and compact, making full use of space,Perfect for pants, skirts ,coats, hats, handbags, towels and other clothing items.

PackageIncluding
10 x Including Trouser/Skirt Hangers


Kanggest Amazon ASIN B07KFY6BV8 Home & Kitchen Storage & Organization , Clothing & Closet Storage , Clothes Hangers , Pants Hangers