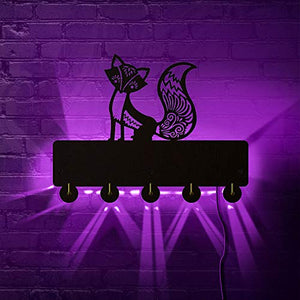 Lovely Fox Theme Shape Design Wall Hooks Coat Hanger Wild Animals Creative Bedroom Bathroom Hanger Clothes Robe Hooks Keys Holder
A set of 5 wall hooks (Includes 5piece Hooks)
A wall hook with a eye-catching led lighting sign is something just perfect for the hallway. (with remote control)
Hook made of metal, decorative piece made from wood
Please note: The rack board is handmade of 3mm black basswood,NOT iron metal.
It is strong enough to support around 2 lbs (0.9kg) of weight.
Decorating with our magnificent LED lighted wall art will allow you to express your unique style, design, and flair on the walls in your home, ranch, cabin, lodge, or cottage.

Light in weight, this wall hook is easy to fix. Fix this on the wall of your entryway and it is sure to grab the attention of guests entering who will be full of smiles and praises. A wall hook with a eye-catching led lighting sign is something just perfect for the hallway. This one here is made from good quality black wooden 3mm thick and will last in prim condition for a long time. It features five hooks. Use these hooks to hang keys, coats, sling bags or cloth bags. So well carved, it is sure to make the walls it is mounted on captivating.

Measures 11.8" wide . 5 mounting holes drilled for mounting. 5 Hooks included but mounting hardware tools not included.

The Led light is powered by USB.

You will be given a 17 Key LED Remote Controller to customize the colors of the LED light sign. With the remote controller, you will have a variety of light setting which include to power on or off lights, pause or play, dim or change speed of lights and also to create rainbow of colors.
The Geeky Days Amazon ASIN B07CHFNQVT Home & Kitchen Storage & Organization , Home Storage Hooks , Coat Hooks