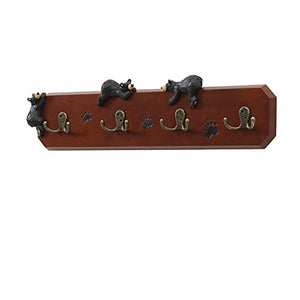 LXLA- Clothes Coat rack hook hanger Wall-mounted On the wall Solid wood Brown White (Available 4 Hooks,61 15.5 5 cm) (Color : Peach color)
Material: wood
Load-bearing: 20kg / hook
Size: 61 * 15.5 * 5 cm
creative design- three bears lying on the hook, there are two small bees on both left and right, there are Cubs foot Cubs three footprints, lifelike, vivid.
Zinc alloy hook- zinc alloy two-way hook, a hook can hang two, load-bearing and durable.
Product description:Product Name: Meng bear wall-mounted coat rackFeature:Thick solid wood - solid wood, thickness 20mm, thickening and reinforcement, stylish corner design, the details highlight the exquisite.Strong after hanging - built-in thickened gourd hook, hang up and fit well with the wall.Please feel free to purchase. If you have any questions before or after purchase, you can contact us at any time. We will actively adopt your friendly suggestions.Style: American countryPattern: ArtAdditional features: flipFurniture structure: stent structureMaterial: woodWood material: pineStructure Technology: Wood TechnologyWood structure technology: finishingCan be customized: NoSuitable for: adultsPackage Contents: 1X coat rackNote: - Delivery time: 10-15 working days. Return line for 30 days. Factory direct. - Due to manual measurement, allowing 1 - 3 cm error, please forgive me. - This product is only a shelf, other decorations are not included. - Please install the product on a solid wall or wood stud to increase load capacity.
LXLA-Coat rack Amazon ASIN B07BTBPTX7 Home & Kitchen Storage & Organization , Home Storage Hooks , Coat Hooks