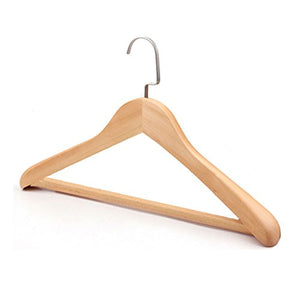 XIAOLIN Clothes Hangers Adult Wooden Non-slip Home Wardrobe Cloakroom Clothing Store Hotel 1 Pack ( Color : Wood color )
Color: wood colo/ brown.
Material: wood.
Size: 45*26 cm.
Specifications: 1 pack.
Function: hang clothes.
High quality solid wood hangers, clear texture, smooth surface, solid and durable.Wide range of uses, suitable for all kinds of clothing.Nickel plated coat hooks, beautiful, good load-bearing.Shoulder widened thickened design, more fitting clothing.Crossbar design, but also hanging pants, scarves, belts and so on.Delivery time 10-20 days.
XIAOLINliangyijia Amazon ASIN B078RKP63C Home & Kitchen Storage & Organization , Clothing & Closet Storage , Clothes Hangers