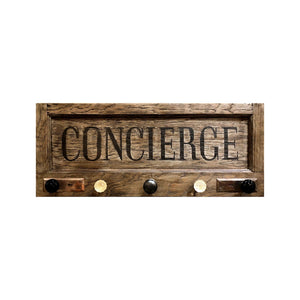 Concierge Coat Check | Vintage Door Coat Rack with Vintage Door Knob Hooks
Incredibly unique one-of-a-kind wall coat hook made entirely from vintage found objects.
This vintage door is transformed with the addition of 5 antique door knobs mounted within and that serve as hooks for coats, garments or other items that need to be hung.
Black antique lettering across front reads "CONCIERGE"
Measures 39-in W x 15-7/8-in H x 4-in D
Note: this door is solid and heavy and together with the items you may want to hang on it, it will require mounting into wall studs.