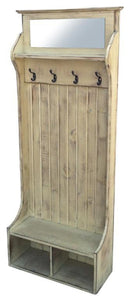 Springwater- Floorganizer #711
Authentic Canadian-Made Rustic Pine furniture. 
 A variation of our venerable Doorganizer, the aptly named (and equally grammar- contorting!) Floorganizer is an interesting solution for space deprived entryways and hallways.  At the bottom is a great stoop perfect for storing shoes while at the top there's a mirror, plenty of coat hooks and a shallow shelf at the perfect height for pocket 
content.  Note the stoop is just 12" off the ground so not necessarily the best height for use as a bench (unless it's for 
the kiddies!).

Overall Dimensions:
64"h x 25"w x 10"d
See attached colour swatch options, We are happy to custom order the colour of your choosing. "Vintage Finishes" are slightly more expensive than the "Clearcoat' or "Simple finish" as its two coats of paint.  Please remember these are custom products and they may take time to be crafted and shipped to us.  
$380.00 Simple Finish     $423.00 Vintage Finish
This item requires custom shipping. Please contact us to purchase & receive shipping quotes. Thank You!
info@heartstringsdecor.com 
Phone: 1 (250) 877-7778 
Springwater Woodcraft out of Ontario Canada, crafts functional home furnishings & accent pieces using simple techniques and real wood. If you're looking for those 'extra somethings' that will add rustic charm, character and function to any living space then look no further!  
The entire line is real wood. "But there must be some MDF somewhere!" you might say?  Nope! Particle board hidden on a bottom somewhere?  Negative! This is honest to goodness real wood! And as such, pieces can be affected by their environments  - humid air can make wood expand, dry air can make it contract. Because of this movement over the life of your piece, some cracks, splits and warping can be expected. These small imperfections should be embraced as part of the truth and beauty of real wood furniture.
Colours are inspired by old-fashioned milk paints, each with its own unique personality and charm. Paint finishes feature 'rubbed' edges for an antique look.  On Vintage finishes, all surfaces, corners and edges of the item are distressed, giving a truly aged appearance.  Where possible, care is taken to distress spots that would naturally see extra wear -- around knobs and pulls, for instance -- to give an authentic 100-year old look! 
Grant, Tricia and Simon Lloyd - two-generation owners at Springwater Woodcraft