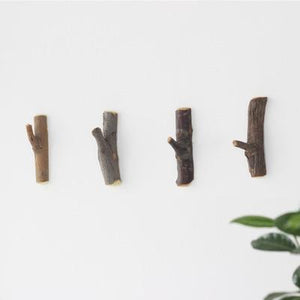 Foress: Natural Wooden Twig Coat Hooks
"Foress" is a set of 4 natural wooden twig coat hooks, perfect for adding woodland flair to an entry way or bedroom. Crafted from Elm, wild apricot, jujuba, and robinia wood. 
Comes with 3M adhesive on the entire back, which will hold up to 1 pound, or you can screw through them directly into a wall stud for hanging heavier items. 
About 5" tall, 2" wide.