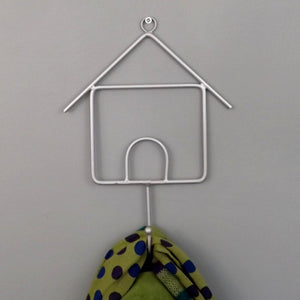 Gentle Grey Wire Outline House Coat Hook
This a from a lovely gentle range of inexpensive grey wire coat hooks. In this example we present the outline of a House with one large hook below.
The hook is ideal for many locations including the Hall, Utility and splendid in the kitchen for aprons and tea towels. Not suitable, however, for heavier coats and bags.
Width: 17.5cm
Height: 25cm
Depth: 3.5cm
Approximate Weight: 120g
These are nice and light, fit into a small box so make an ideal gift to send a chum in the post!! - or perhaps ask us to send it
for you and we shall include your greeting. - have you tried our wrapping service?