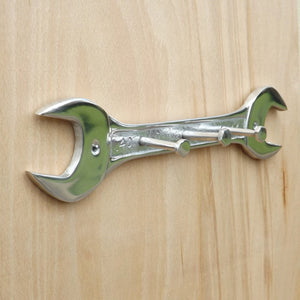 LARGE Chunky Chrome Spanner Coat Hook Rack
Super large chunky Chrome Coat Rack in the shape of a spanner with 3 Bolt hooks . Terrific chaps gift for his garage or shed but equally super in a kitchen or Utility Room.
There are the numbers 40 and 44 at each end, so perhaps a good present when he enters his 4th Decade!
Width: 45cm
Height: 11cm
Depth: 7cm
Approximate weight: 620g