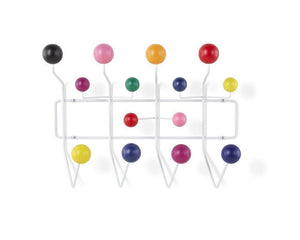 MLF Modern Hang it All, Coat Hook Wall Mounted Coat Rack with Painted Solid Wooden Balls in Multi Colors - White Metal Frame(Multi Color)
$30900

$309.00

Save $126.69
---
---
Brand: MLF
Color: Hang It All Coat Rack in Multi Color
Features:
Dimensions & Materials - 19.7"" L x 14.9"" H x 6.3"" W; Steel rod frame with white powder coat and Painted solid Wooden balls in Multi Colors.
Has 14 hooks in different sizes - Conveniently spaced for Easy Hanging of All Your Personal Belongings.
Practical Everywhere - Originally designed for children, the Hang-It-All is now considered at home in places where adults work and play, too.Strong enough to hold winter overcoats, laptop case, or messenger bag, it's a cheerful piece that can brighten up a foyer, mud room, bedroom, kitchen, or bathroom.
Function - The Hang-It-All first appeared in 1953 as storage for childrens' belongings. Today, the whimsy established by the Hang-It-All in children's room decor carries through to an artful foyer or entryway statement. For secure mounting, drywall anchors and screws are included.
Warranty - 2 year warranty period from the date of purchase,online safety order.
Publisher: MLF.Inc.
Details: Product attributes:
Coat Rack Dimension: Length 19.7 inches x Width 14.9 inches x Height 6.3 inches
Package Dimension (inch): L 22.8*W 20.5*H 7.9
N.W. (lb.): 1.2
G.W. (lb.): 1.46

Suitable Places:
Living Room, Sitting Room, Bedroom, Leisure Areas, Work Place, Hall, Coffee House, Hotel, Villa, Club

Coat Rack with Painted Solid Wooden Balls in Multicolored
A Fun and Iconic Coat Rack
Perhaps the world's most iconic coat rack, Gumball livens up any room with powerful bursts of fun. Hang it all from your daily coats, umbrellas and raincoats. You may even be tempted to leave it bare to appreciate the design.
Painted Solid Wood Balls
Gumball is made with a sturdy steel rod frame and brightly painted multi-colored balls. Which color do you want to hang your coat on today?
A Gift for all Occasions
The perfect gift for birthdays, anniversaries, holidays and weddings, Gumball brings joy to any room and nearly any decor.
UPC: 785197945425
EAN: 650202037474
Package Dimensions: 22.8 x 20.5 x 7.9 inches