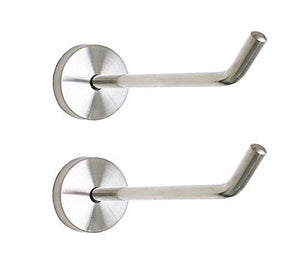 NELXULAS Brushed Stainless Steel Single Heavy Duty Long Coat Hook Robe Hanger Wall Mount Hook, Fit for Kitchen,Bedroom,Living Room, Bathroom,Closets and Garage Storage (4-2/3", 2 PCS)
Brand: NELXULAS
Color: Silver
Features:
Solid stainless steel construction ensuring quality and longevity
Bathroom balcony bedroom kitchen can be installed esay Concealed screws
Super Heavy Duty, Designed to hold a wide variety of items: coats hats handbags umbrellas towels or robes,Up to withstand the pull of 88 LB(40KG). longer size, for more selection AND more convenient
Ensure safe long-term use,All Screws are made by Stainless Steel, and the Anchors is choose high quality non-recycled material, absolutely will not fall off, corrosion, rust.
Simple but elegant and gorgeous, First-class production technology best interpretation of comfortable life.
Publisher: ZY STY
Details: Material : Stainless Steel
Anchor : high quality non-recycled material
Screws: Stainless Steel
Installation Method : Wall-mounted
Package Includes: 2 Hooks X 6 Screws X6 Anchors
Install tips:
1. Release the decorative cover from the hook.
2. Drilling the wall and hammer the anchor into the hole.
3. Move screws through the holes on the base, screwed into the anchor and fixed base.
4. Put the decorative cover back to the hook original position.

NELXULAS brand is only used for NELPLA STORE, Other stores unauthorized use , Please look clearly that sold by NELPLA and Fulfilled by Amazon. Be careful to avoid buying fakes.