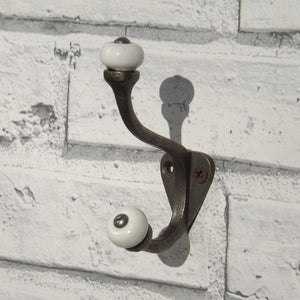 "Padstow" Cast Antique Iron Coat Hook with Ceramic Tips
This is a quality made waxed Antique Cast Iron Coat hook reproduced from an original Victorian hook from Padstow. The Ceramic tips give this a gentle uplift from the more traditional plain . This is a very popular hook at our showroom. 
Wood Screws are provided, however please check with your builder if these are suitable for the purpose
Ideally suited to the period home in a wardrobe, on a door or in a narrow hallway
Width: 3.2cm
Height: 10.5cm
Depth: 7.5cm
Actual weight: 75g

dispatched to you in a box.