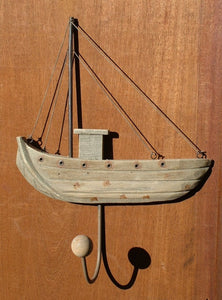 Single Hook rustic wood Sailing boat
Take a close look at this coat hook, it's charming and made entirely of natural materials.
The Hull is wood, the rigging twin and the hook is metal. It has been give a slight aged,rustic,
effect. It is not small either so has great impact on the wall as a piece of practical Art,
not just a hook!


Seaside hooks always look fresh and bright in a bathroom with this one being no exception,
but of course you may like to also put it in your own yacht!! We also have available a double
and a treble hook coat rack to make a set.


Width: 28cm
Height: 37cm
Depth: 10cm
Approximate weight: 204g