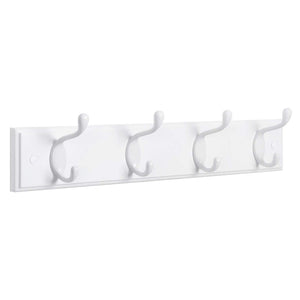 SONGMICS Wooden Wall-Mount Coat Rack with 4 Metal Hooks, 16 Inch Coat Hook Rail for Hallway Bathroom Closet Room, White ULHR23WT
Brand: SONGMICS
Color: White
Features:
THE SEARCH IS OVER: You can bid farewell to the pain of rummaging through your house every morning to find your keys, hats, coats or bags; why not hang them on your new coat rack?
DURABILITY COMES FIRST: With sturdy metal hooks and a wooden base, this hook rack provides a stable perch for your heavy winter jackets and bags; it easily holds up to 35 lbs. when mounted to a solid wall or studs
ALWAYS IN FULL PLAY: With simple elegance, this hook rack is a nice addition to your hallway, closet, bedroom, or garage; you can even hang it in the bathroom to hold those towels that would otherwise end up on the floor
A BREEZE TO INSTALL: With just 2 expansion screws and caps, this hook rack is quickly ready to come to the rescue in your entryway
100% SATISFACTION : SONGMICS provides professional customer service before and after purchase; we always respond within 24 hours; don't wait any longer and enjoy it now!
Publisher: Songmics
Release Date: 28-09-2018
Details: Does this sound familiar? Your door knobs are covered by coats and scarves. The chairs have been taken over by handbags and hats. Towels are scattered everywhere. You've looked everywhere, but can't seem to find your keys. If this rings a bell, this SONGMICS hook rack would be perfect for your home. No more piles of clothes With 4 metal double hooks, you have 8 spots to hang your jackets, hats, bags, and keys in one convenient spot for a neat look. Finally - no more piles of clothes accumulating on your chairs or sofa. Good habits shape a better life This hook rack helps you develop a good habit of organizing your clothes and home. Teach your children to hang scarves and hats on the hat rack; instill organization habits into them at an early age so they can grow into organized adults who always know where their keys are. Bring it home and make your entryway an eye-pleasing spot so you can unwind without needing to stare at the everyday home disorder. Specifications: - Color: White- Material: MDF (Medium Density Fiberboard), Zinc Die-Cast- Product Size: 15. 7"L x 3. 5"W x 2. 8"H (40 x 9 x 7 cm)- Weight: 1. 1 lbs. (0. 5 kg)- Load capacity: 35 lbs. (15. 9 kg)Package Contents: - 1 x Hook Rack- 1 x Accessory Bag- 1 x Instructions SONG MICS Notes: Mount this item to a solid wall or into wood studs to ensure the safety of a high load capacity. Avoid outdoor use or exposure to rain.
EAN: 6955880374250
Package Dimensions: 17.4 x 4.8 x 4.0 inches