Air Fryer Sopapillas
Posted by admin on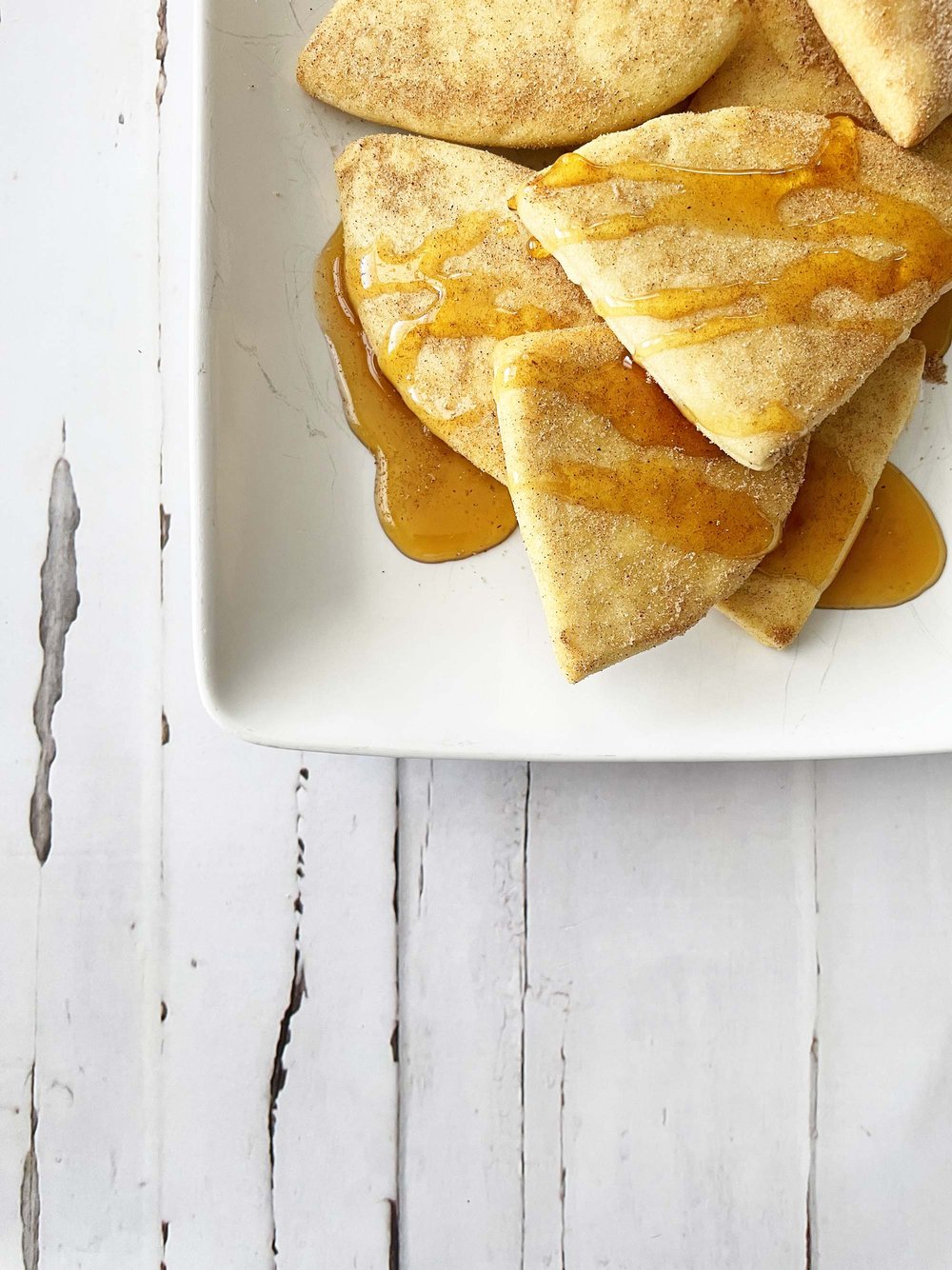 Everyone loves a good Sopapilla after some tasty Mexican food. And these Air Fryer Sopapillas are not only easy to make, they also only take a handful of ingredients and just a few minutes of cook time. Being as there's only a handful ingredients, there really isn't much you can do to make them much 'better for you'.
Sometimes you just need to indulge just a little bit. But, even with that being said? You get four of these to a serving that's well under two-hundred calories. Dust them in some cinnamon sugar and a little bit of hunny and you've got an amazing dessert!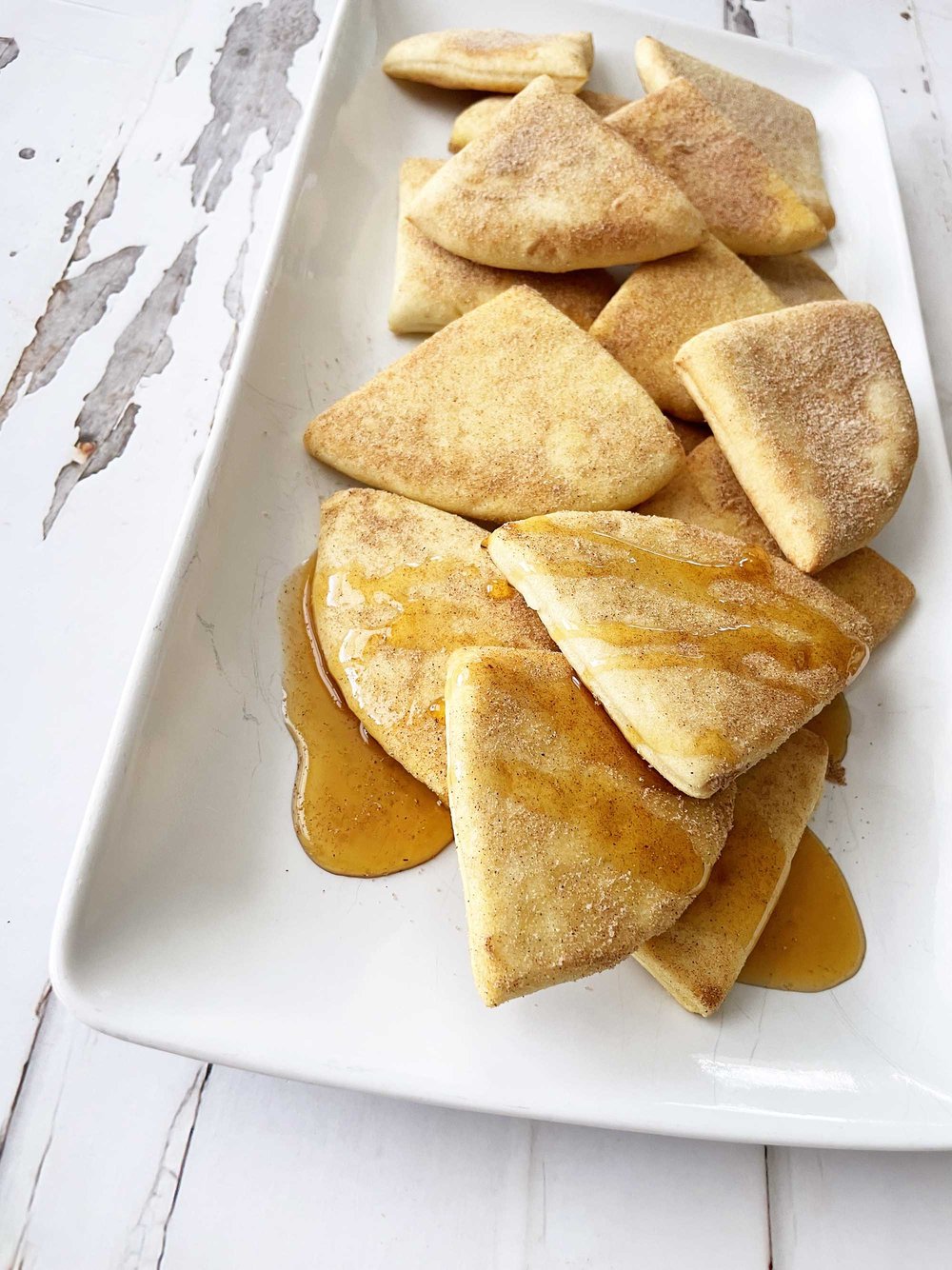 It doesn't get much better than this. These are great to serve as a sweet breakfast or as a dessert. I had mine for breakfast this morning, but… BUT I would definitely make them again sometime as something to have for dessert after a Mexican meal or even Tex-mex. They end up nice and toasty on the outside and soft and warm on the inside.
You can make these ahead of time and warm them back up when you're ready to enjoy.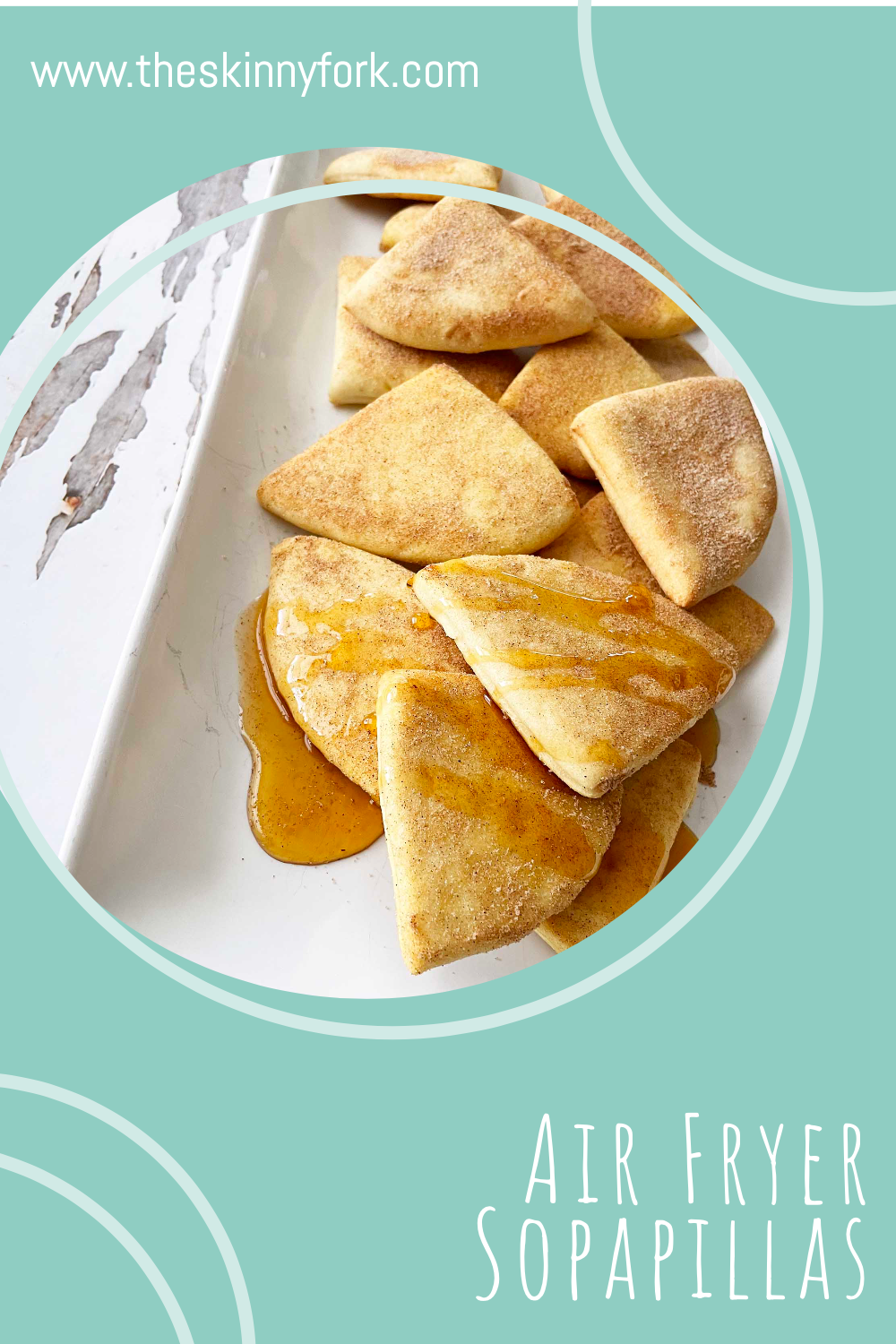 Air Fryer Sopapillas
Yield:
4
Author:
The Skinny Fork (Amanda Plott)
Prep time: 5 Min
Cook time: 6 Min
Inactive time: 20 Min
Total time: 31 Min
Easy to make little air fried sopapillas that takes just a few ingredients and hardly any time at all to cook! Dust with some cinnamon sugar and/or honey for a delicious dessert.
Ingredients
1 1/4 C. Flour
1 Tsp. Baking Powder
1/2 Tsp. Salt
1/2 C. Hot Water
1 Tbsp. Canola or Vegetable Oil
Cinnamon Sugar
Instructions
In the base of a stand mixer, whisk together the 1 1/4 C. Flour, 1 Tsp. Baking Powder, and 1/2 Tsp. Salt.
In another bowl whisk together the 1/2 C. Hot Water and 1 Tbsp. Canola or Vegetable Oil.
Use the hook attachment on the stand mixer and slowly add the wet ingredients to the dry to form dough.
Allow the hook to kneed the dough on a low speed for five minutes.
Once done, remove the dough and divide into four pieces and roll each into a ball. Place them in a bowl and allow them to rest for 20 minutes.
Using a rolling pin, roll each ball of dough out to be about 1/4" thickness.
Cut each into 4 equal pieces and lightly coat with non-stick cooking spray.
Lightly coat the inside of the fryer basket with non-stick spray as well and place a few of the so papilla pieces into the basket.
Set to cook on 375 for 3-4 minutes, flip over, and continue to cook for another 3-4 minutes or until golden brown.
Rinse and repeat for the remaining dough.
Toss with cinnamon sugar and enjoy warm with honey if desired!
Nutrition Facts
Calories
184.41
Fat (grams)
3.79 g
Sat. Fat (grams)
0.58 g
Carbs (grams)
33.12 g
Fiber (grams)
1.05 g
Net carbs
32.06 g
Sugar (grams)
3.1 g
Protein (grams)
4.04 g
Sodium (milligrams)
414.88 mg
Cholesterol (grams)
0 mg
Nutritional Claims: Sugar Conscious • Low Potassium • Kidney Friendly •Vegan • Vegetarian • Pescatarian • Mediterranean • Dairy Free • Egg Free • Milk Free • Peanut Free • Tree Nut Free • Soy Free • Fish Free • Shellfish Free • Pork Free • Red Meat Free • Crustacean Free • Celery Free • Mustard Free • Sesame Free • Lupine Free • Mollusk Free • Alcohol Free • No Sugar Added • Sulphite Free •Kosher
Similar Recipes
[TAG5]
Air-Fryer Homemade Pizza Rolls
[TAG6]
Air Fryer Grilled Cheese
[TAG7]
Air Fryer S'mores
Did you make this recipe?
Tag
@theskinnyfork
on instagram and hashtag it # theskinnyfork
Step-by-Step Photos: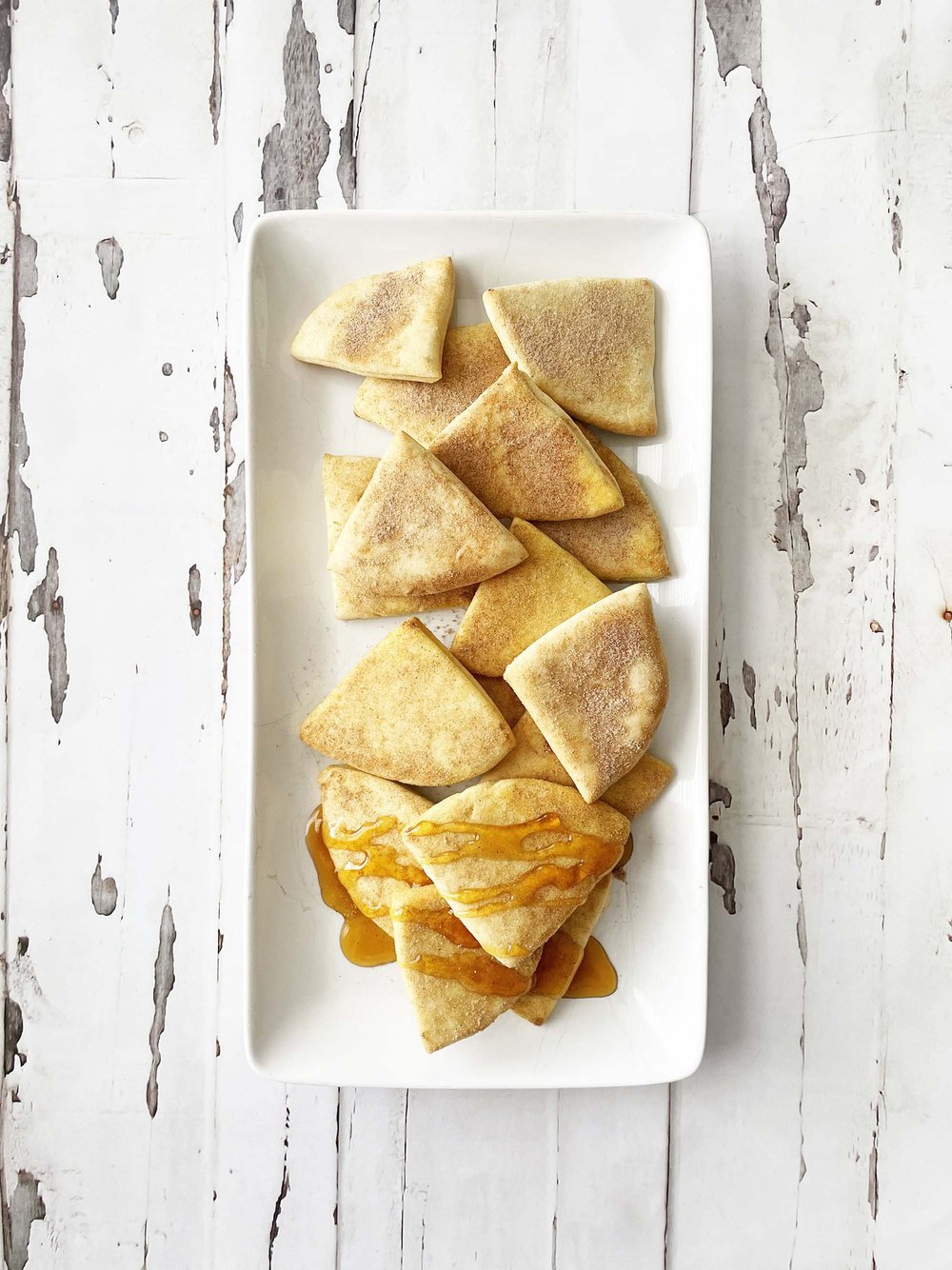 ---
Share this post
---
---